The 3DS game based off of the popular PC series is stuck at the station.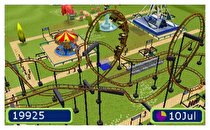 RollerCoaster Tycoon 3D, originally revealed last year for a 2012 release, is on hold, according to a representative from publisher Atari.
Developed by Heroes of Ruin developer n-Space, RollerCoaster Tycoon 3D was on tap for a March 2012 release. In early February, n-Space confirmed to us that, as far as they knew, the game was still set for a March release.
As soon as we hear of a firm release date for the game, we'll let you know.
Atari's only other published title on 3DS is the WayForward-developed Centipede: Infestation. n-Space developed last year's Jaws: Ultimate Predator for 3DS, and is also working on the ambitious Heroes of Ruin with Square Enix.