The game has been done for months according to the developer, but who knows when it will actually come out.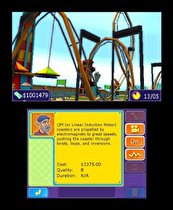 UPDATE 5/7/12: An Atari rep responded to us, saying "the official launch date has yet to be announced." The original story follows below:
RollerCoaster Tycoon 3D is getting pushed back another month to June 19, according to GameStop.
The game was last set for a May 22 date according to retailers, and a late spring release according to publisher Atari. Before that, it was announced for an early 2012 date.
Developer n-Space confirmed in February that the game is complete and finished. The company is currently finishing up Heroes of Ruin with Square Enix, which is due out on June 26.
We have reached out to Atari for confirmation.
Thanks to Snowyday for the tip!