Like January, three titles will be revived, two for Neo Geo.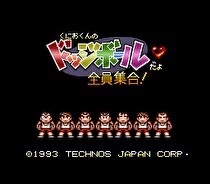 February's Japanese Wii Virtual Console releases have been announced, and next month looks a lot like this month. Wii gamers in Japan can expect two more Neo Geo fighters and a Kunio-kun dodge ball game.
D4 seems intent in making their entire SNK line-up available on Virtual Console. Just this month, they published Real Bout Fatal Fury on Wii, and next month, they have Real Bout Fatal Fury Special (Real Bout Garou Densetsu) slated. The fighter, which originally debuted in 1997, is the followup to Real Bout Fatal Fury and features new characters and graphics. Like most Neo Geo games, it will cost 900 Wii Points.
D4 is also releasing Samurai Shodown IV: Amakusa's Revenge (Samurai Spirits Amakusa Kourin), the fourth iteration in another of SNK's fighting series. This game originally released in 1996 and brought more characters and a more cartoonish look to the franchise. It will also cost 900 Wii Points.
For Super Famicom, Arc System Works is releasing Technos' Kunio-kun no Dodge Ball Dayo Zenin Shuugou! (literally, It's Kunio's Dodge Ball, Gather Everyone!). The game is a 1993 follow-up to Super Dodge Ball and stars the iconic Kunio-kun characters. It will sell for 800 Wii Points. Unlike the two Neo Geo games, this one was never released outside of Japan.