Title celebrating the 20th Anniversary of the series will launch November 22.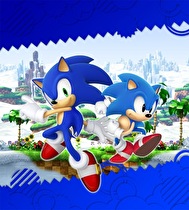 The 3DS version of Sonic Generations is coming out on November 22 in North America and November 25 in Europe.
The game, which celebrates the 20th Anniversary of the Sonic the Hedgehog franchise, allows the player to control both Modern Sonic and Classic Sonic, each with different move sets representing the gameplay styles of the series from their respective time periods. The two Sonics must work together to defeat a new enemy pulling Sonic and his friends back and forth through time.