Questing puzzles and wacky science antics are the highlights of this week's update.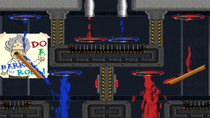 This week four new games are available for download; three for DSiWare and one for WiiWare.
The first DSiWare game is Puzzle Quest: Challenge of the Warlords from 1st Playable Productions. In the puzzle game, players must match gems and cast spells to defeat an assortment of dastardly creatures. There are over 150 quests to complete and online multiplayer. The title can be downloaded for 800 DSi Points ($8).
99Bullets is the second DSiWare game for the week. From EnjoyUp games, the 500 DSi Point ($5) game is a retro-styled space shooter featuring over 10 levels.
The final game for DSiWare is 3D Twist and Match from Sanuk Games. This puzzle title challenges players to rotate 3D objects in order to replicate the shadow they cast. The game can be downloaded for 200 DSi Points ($2).
The lone WiiWare release is Overflow from Digital Leisure Inc. Players take on the role of a professor named Lexis as they help him obtain the special fuel needed for his latest invention. The Wii Remote must be utilized to complete the liquid based puzzles. It retails for 500 Wii Points ($5).