Those faces might look bad, but the overall art design is to die for.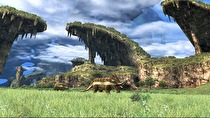 I've heard arguments on both sides over the matter of Xenoblade Chronicles' graphics. "Man, this looks like a Nintendo 64 game!" "What? This is the best-looking game on the Wii! No contest!" The stark contrast of opinions makes my head spin a bit.
My personal reaction to the graphics? Well, I think a lot of the textures and models are kind of crappy, but the game runs smooth as butter and the art design is gorgeous. Simply put, the graphics technically aren't spectacular, but it doesn't matter because the game is awesome, bolstered by some of the best art direction and world design I have ever seen.
The world created by Monolith Soft is one of the most interesting I've seen in a game in years. It reminds me of the worlds I thought up in my mind when I played classics such as Final Fantasy VI and Chrono Trigger. It truly is those types of quintessential worlds fully realized with a modern graphical sheen. Is it HD sharp? No. Are the character's faces weird? Very much so. But the game is incredible. The world is filled with personality, and there are secrets strewn throughout the landscape.
The one thing I haven't heard discussed enough is the game's infrequent load times. Outside of initially starting the game, the load times are almost nonexistent. It makes the scale of the world even bigger in scope, and makes exploration even more enjoyable. I'd much rather play a game like this, where I can throw around a "this looks like a really good PS2 game" insult while it runs smoothly and without delay, as opposed to a graphically intensive game on another system that is bogged down by load times and bugs. Xenoblade Chronicles doesn't need HD to be a great game; it already is one.