Galaxy. Wind Waker. Skyward Sword. This region's got some top dogs left.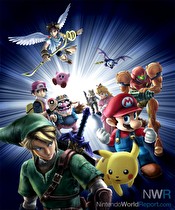 We're down to 16 games, and now it's going to get really crazy. Marios fighting Donkey Kongs and Zeldas fighting Marios. Bedlam! Remember: We've split all these games into four regions, led by the highest-rated games (according to Nintendo World Report and MetaCritic) of the entire batch: Metroid Prime, Super Mario Galaxy, The Wind Waker, and Resident Evil 4. Almost all of the top eight games are all still alive, but will they all make it to the next round? Go ahead and vote for these match-ups and show your colors in the discussion.
Voting ends around 11:30 p.m. ET on March 20. Later that day, we'll have Round 4, with 8 games and 4 match-ups, ready to go...
---
Super Mario Galaxy (1) vs. Fire Emblem: Awakening (4)
Super Mario Galaxy: Super Mario Galaxy is Mario's first foray on the Wii back in 2007, and not only is it considered one of the best games on the Wii, it might just be Mario's best adventure yet! Here's a refreshing story: Bowser has kidnapped Princess Peach. This time, he takes Princess Peach's castle and lifts it into outer space. Mario takes it to the sky, collecting power stars along the way in search of Bowser and Peach. The game makes great use of the Wii controls, using the nunchuk to move and the controller itself to preform actions. With intuitive controls, engaging worlds and a incredible orchestrated soundtrack, Super Mario Galaxy can be considered one of the best games of the last generation on any system.
Games Defeated: Mario & Luigi: Bowser's Inside Story (8), Pokemon Snap (16)
Fire Emblem: Awakening: The 2013 3DS release Fire Emblem: Awakening took nearly every convention from the older titles that fans knew and loved and simply made it better. Support mechanics in battle went from cumbersome to a strategy that made you nearly unbeatable. Innate character abilities actually showed up in battle, unlike they used to, and added a whole level of meticulous planning to support levels just so everyone could get Galeforce. The class system even expanded to include some of the best classes that have ever existed. Healer with an axe? Yes please. Not only is this title at the pinnacle of Fire Emblem games, but it was one of the best games of 2013, with some pretty stiff competition.
Games Defeated: Eternal Darkness: Sanity's Requiem (5), Animal Crossing (13)
---
Super Mario Sunshine (6) vs. Advance Wars (2)
Super Mario Sunshine: The 2002 follow-up to Super Mario 64 on GameCube might have not lived up to the pure innovation of the N64 classic. Super Mario Sunshine was still, however, a finely tuned and excellent Mario game with a novel new mechanic with the F.L.U.D.D. and a unified island theme. Throw in a controllable Yoshi and some stellar level designs, and Sunshine stands up next to its 3D Mario siblings with enough aplomb to be a classic. Now here's hoping for a Wii U HD treatment much like Wind Waker. That'd be so cool, because clean is better dirty and dirty's meaner than clean.
Games Defeated: Castlevania: Dawn of Sorrow (WC), Tales of Symphonia (11)
Advance Wars: This 2001 Game Boy Advance release finally brought the beloved Japanese series over to the West. Finally, the fabled strategy RPG series was making its way into our hands and boy, was it worth the wait. An in-depth tutorial and simple mechanics made it easy to get into, even for genre novices. While being both single and multiplayer, this turn-based tactics game made its way to the near top of multiple GBA rankings for its deep combat, wonderful designs, and its near-infinite replay value. If you have seen this series anywhere, please let us know. We're about to file a missing persons report with Nintendo because man, it'd be great to have a new Advance Wars on 3DS, right?
Games Defeated: New Super Mario Bros. Wii (7), Nintendo Land (15)
---
Zelda: The Wind Waker (1) vs. Super Smash Bros. Brawl (4)
The Legend of Zelda: The Wind Waker: Can there be any doubt that this is among the top contenders in this bracket? It's a game so nice they sold it twice. Wind Waker is certainly one of the prettiest games in recent memory, with a cel-shaded, colorful art style that remains consistent and wonderful music that expresses whimsy (the pirate theme) and epic-ness (the ocean theme). The Great Sea feels like a living world, and there's no shortage of things to do and treasure to uncover. Wind Waker is filled with moments you'll never forget your first trip to Hyrule Castle, Princess Zelda's reveal, and Link's final blow to Ganondorf. As always, I expect great things from Toon Link in this tournament.
Games Defeated: Star Wars Rogue Squadron II: Rogue Leader (8) Wii Sports (16)
Super Smash Bros. Brawl: The sequel to the acclaimed Super Smash Bros. Melee, Super Smash Bros. Brawl is an even bigger serving of fan service to Nintendo fans than either of the first two games combined. It boasts an array of awesome collectables, as well as a new story mode that connects all of the playable fighters together in a quest to stop the Subspace Army. Speaking of characters, there's more than ever before, with Diddy Kong, Pit, Pokemon Trainer, and Sonic the Hedgehog joining the roster as well as a number of other new characters. To top it all off, Brawl also introduced the Final Smash, which allows the player to finish off their opponent with a huge, final attack that sends the opponent reeling. Smash Bros. Brawl has a limitless amount of content that makes it one of the Wii's top games.
Games Defeated: Punch-Out!! Wii (5), Professor Layton and the Curious Village (13)
---
Super Mario Galaxy 2 (3) vs. Zelda: Skyward Sword (2)
Super Mario Galaxy 2: Mario returns on the Wii for round two in the cosmos with the 2010 release of Super Mario Galaxy 2, this time with the ability to ride Yoshi and over 240 stars to collect. As par for the course, he needs to rescue Peach yet again. However minor improvements were made to the already great Galaxy formula, causing Galaxy 2 to keep on impressing. Between its paramount level design and mechanics, SMG2 resulted in being a fan favorite of 2010.
Games Defeated: Super Mario 3D Land (6), Metroid Fusion (WC)
The Legend of Zelda: Skyward Sword: Not to besmirch the good name of Twilight Princess, but Skyward Sword was the true heir to the Zelda legacy for the Wii. Of course we all know that Twilight Princess came out at the weird cusp of GameCube and Wii, so it's natural that not all of the Wii's features were fully realized, but the simple fact remains that they just should have worked to put it out early to it didn't have to compete with this gem. Skyward Sword harkened back to some of Zelda's best titles with its truly epic story and combined it with the interactive gameplay the Wii prided itself on. Nintendo couldn't have given us a better title for Zelda's 25th anniversary.
Games Defeated: Metroid: Zero Mission (7), Super Smash Bros. (15)