Eight games are left, including four Mario games, two Zelda games, one Metroid, and a rogue Xenoblade.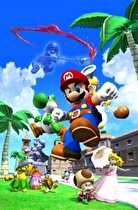 After a rousing Sweet 16 round that involved a #1 seed (Resident Evil 4) falling by two votes and not one but two Smash Bros. games losing, we're down to just eight games. Three #1 seeds remain, including Super Mario Galaxy, Metroid Prime, and Wind Waker, but can some of the other remaining games, namely Super Mario Sunshine, Super Mario 3D World, and Super Mario Galaxy 2, take down those high-ranked games? Only your votes can tell.
Voting ends around 11:30 p.m. ET on March 23. The next day, we'll have the Final Four ready to duke it out.
---
Metroid Prime (1) vs. Super Mario 3D World (WC)
Metroid Prime: Among the many honors heaped upon the beloved 2002 GameCube game Metroid Prime, one stands out: it was NWR's Game of the Decade. It is a deserving title, too, successfully translating an essentially Super Metroid world map into not just 3D but first-person to boot. While the GameCube control scheme took some getting used to, once it clicked, Metroid Prime was unlike any other experience. The Wii's Metroid Prime Trilogy improves on perfection with the excellent control of Metroid Prime 3. Samus' first 3D adventure is the one to watch—the real critical darling—in this tournament.
Games Defeated: Super Smash Bros. Melee (4), New Super Mario Bros. (9), Pokemon Gold/Silver (16)
Super Mario 3D World: After making it through the Wild Card Round, the beloved 2013 game Super Mario 3D World seeks to further its win streak. It was Mario's big 3D foray into HD graphics on the Wii U. Featuring the adorable cat suit and tons of content, this game brought four-player mayhem to a new style of Mario, ruining friendships all the while. If this game loses in this round, there is a chance that it invalidates this entire voting process, and the NWR staffers who decided this wasn't one of the four best games of 2013 might have to stand trial.
Games Defeated: Donkey Kong Country Returns (7), Metroid Prime 3 (6), The Legend of Zelda: Majora's Mask (3), Luigi's Mansion (WC)
---
Xenoblade Chronicles (4) vs. Zelda: Twilight Princess (2)
Xenoblade Chronicles: Nintendo's purchase of Monolith Soft was leading up to this. The long-delayed launch of Xenoblade Chronicles introduced players to an expansive world that stretches across the body of two frozen titans. Expansive vistas offer fleeting views of the two giants, locked in eternal combat. Monolith Soft, seemingly unphased by the constraints of the Wii hardware, produced more than just a stunning visual show, they also innovated innumerable ways to streamline the chore-like tasks that encumber the JRPG genre. While the Wii lacked a deep library of JRPGs, Xenoblade Chronicles could convincingly stake a claim to being the best of its generation.
Games Defeated: Resident Evil 4 (1), Kirby's Epic Yarn (5), Ogre Battle 64 (13)
The Legend of Zelda: Twilight Princess: Many fans of the Zelda series were not satisfied with the Wind Waker art style (at least at the time), and at the very end of the GameCube's life those fans got their wish of a "realistic" Gamecube Zelda with The Legend of Zelda: Twilight Princess. Being so late in the GameCube's life, Twilight Princess was also developed for the Nintendo Wii as a launch title. What makes Twilight Princess stand out is its unique take on the Zelda "legend," including a wolf form of Link, the best partner Link ever has in a Zelda game in Midna, as well as the antagonist Zant and the twilight realm. Even with the unique elements, Twilight Princess still delivers an experience of a genuine Zelda game.
Games Defeated: Paper Mario: TTYD (WC), Elite Beat Agents (7), Phoenix Wright Dual Destinies (15)
---
Super Mario Galaxy (1) vs. Super Mario Sunshine (6)
Super Mario Galaxy: Super Mario Galaxy is Mario's first foray on the Wii back in 2007, and not only is it considered one of the best games on the Wii, it might just be Mario's best adventure yet! Here's a refreshing story: Bowser has kidnapped Princess Peach. This time, he takes Princess Peach's castle and lifts it into outer space. Mario takes it to the sky, collecting power stars along the way in search of Bowser and Peach. The game makes great use of the Wii controls, using the nunchuk to move and the controller itself to preform actions. With intuitive controls, engaging worlds and a incredible orchestrated soundtrack, Super Mario Galaxy can be considered one of the best games of the last generation on any system.
Games Defeated: Fire Emblem: Awakening (4), Mario & Luigi: Bowser's Inside Story (8), Pokemon Snap (16)
Super Mario Sunshine: The 2002 follow-up to Super Mario 64 on GameCube might have not lived up to the pure innovation of the N64 classic. Super Mario Sunshine was still, however, a finely tuned and excellent Mario game with a novel new mechanic with the F.L.U.D.D. and a unified island theme. Throw in a controllable Yoshi and some stellar level designs, and Sunshine stands up next to its 3D Mario siblings with enough aplomb to be a classic. Now here's hoping for a Wii U HD treatment much like Wind Waker. That'd be so cool, because clean is better dirty and dirty's meaner than clean.
Games Defeated: Advance Wars (2), Castlevania: Dawn of Sorrow (WC), Tales of Symphonia (11)
---
Zelda: The Wind Waker (1) vs. Super Mario Galaxy 2 (3)
The Legend of Zelda: The Wind Waker: Can there be any doubt that this is among the top contenders in this bracket? It's a game so nice they sold it twice. Wind Waker is certainly one of the prettiest games in recent memory, with a cel-shaded, colorful art style that remains consistent and wonderful music that expresses whimsy (the pirate theme) and epic-ness (the ocean theme). The Great Sea feels like a living world, and there's no shortage of things to do and treasure to uncover. Wind Waker is filled with moments you'll never forget your first trip to Hyrule Castle, Princess Zelda's reveal, and Link's final blow to Ganondorf. As always, I expect great things from Toon Link in this tournament.
Games Defeated: Super Smash Bros. Brawl (4), Star Wars Rogue Squadron II: Rogue Leader (8) Wii Sports (16)
Super Mario Galaxy 2: Mario returns on the Wii for round two in the cosmos with the 2010 release of Super Mario Galaxy 2, this time with the ability to ride Yoshi and over 240 stars to collect. As par for the course, he needs to rescue Peach yet again. However minor improvements were made to the already great Galaxy formula, causing Galaxy 2 to keep on impressing. Between its paramount level design and mechanics, SMG2 resulted in being a fan favorite of 2010.
Games Defeated: Zelda: Skyward Sword (2), Super Mario 3D Land (6), Metroid Fusion (WC)