Wind Waker and Brawl are the two top dogs in this area.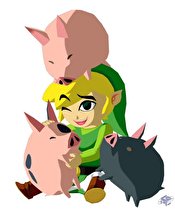 Now that we're done the Wild Card Round, it's time to get to the fun stuff. Round 1, aka the Round of 64, features a ridiculous 32 match-ups between 64 deserving games. We've split them all into four regions, led by the highest-rated games (according to Nintendo World Report and MetaCritic) of the entire batch: Metroid Prime, Super Mario Galaxy, The Wind Waker, and Resident Evil 4. Go ahead and vote for these match-ups and show your colors in the discussion. What's your Cinderella game?
Voting ends on March 15 at around 1 a.m. ET. On March 16, we'll have Round 2, with 32 games and 16 match-ups, ready to go...
---
Wii Sports (16) vs. Zelda: The Wind Waker (1)
Wii Sports: The second you played Wii Sports, you became a true believer. Don't deny it - we all did. Your parents played Wii Sports. Your grandparents probably played Wii Sports. People who'd never picked up a video game controller in their lives went to Wal-Mart and bought a Wii after seeing it on Oprah and playing Wii Baseball with their kids. Love it or hate it, Wii Sports defined the entire console, and it was magical. From the Mii avatars to the elevator music to the incredibly simple controls, everything about Wii Sports worked. It truly was a system seller--not just because it came with the system, but because it convinced people to go out and buy a Wii.
The Legend of Zelda: The Wind Waker: Can there be any doubt that this is among the top contenders in this bracket? It's a game so nice they sold it twice. Wind Waker is certainly one of the prettiest games in recent memory, with a cel-shaded, colorful art style that remains consistent and wonderful music that expresses whimsy (the pirate theme) and epic-ness (the ocean theme). The Great Sea feels like a living world, and there's no shortage of things to do and treasure to uncover. Wind Waker is filled with moments you'll never forget your first trip to Hyrule Castle, Princess Zelda's reveal, and Link's final blow to Ganondorf. As always, I expect great things from Toon Link in this tournament.
---
New Super Mario Bros. U (9) vs. Star Wars: Rogue Leader (8)
New Super Mario Bros. U: Series fatigue seemed to be setting in for the 2012 release of New Super Mario Bros. U. Those who didn't become jaded were blessed with a fantastic game from start to finish. New Super Mario Bros. U took the ideas from the New Super Mario Bros. series and made them even better. With the new squirrel suit, the addictive challenge mode, and the stellar level design, this was one heck of a launch title for the Wii U. It might not have made the Wii U the dominant system in the industry, but it certainly made it fun for anyone who owned one.
Star Wars Rogue Squadron II: Rogue Leader Co-developed by Factor 5 and LucasArts, this GameCube exclusive is the second of three games released in the Rogue Squadron series. This fast-paced flighty fighter debuted in 2001, and included 10 levels with missions, such as search and destroy or protection. At the time, the game delivered beautiful graphics and sound, and the presentation blew people away. With its hefty lasting appeal, it was considered by some a must buy for GameCube owners, and hell, even Wii owners, as even now that it is more than a decade old, Rogue Leader still looks good.
---
Donkey Kong: Jungle Beat (12) vs. Punch-Out Wii (5)
Donkey Kong: Jungle Beat: It's the classic DK platformer we all know and love, but it controls like no other. Donkey Kong: Jungle Beat, from the beloved team at EAD Tokyo, was released for the GameCube in the US and Europe in 2005 and was playable with the DK Bongos from Donkey Konga, the previous rhythm game. Beating the bongos to beat the baddies and pave DK's way through the jungle proved for pure joy and a unique way to play. It's a beautiful game with an elegant rhythm-heavy platforming mechanic that makes it unique and fantastic.
Punch-Out!!: The Punch-Out series was dormant for a long time before Next Level Games crafted the stellar 2009 Wii release. It was faithful to the original, including a lot of the same characters and ideas, but it expanded upon in interesting ways, with more modes and lavish and comical animations. This game bursts with personality and challenge. We might not ever see another brand new Punch-Out game, but this Wii rendition is essentially the ultimate classic Punch-Out game. And now Little Mac's in Smash Bros., so the world is really a fair and just place.
---
Professor Layton and the Curious Village (13) vs. Super Smash Bros. Brawl (4)
Professor Layton and the Curious Village: In this 2008 DS hit, brain-busters meet adventure as Professor Layton and his apprentice, Luke, investigate St. Mystere. Word on the street is that the Baron hid a "Golden Apple" somewhere in the village before he passed away, promising his fortune to the one who finds it. Now everyone in the town is armed with puzzles to try to destroy Professor Layton's mind. Or they just have puzzles because, well, they just like puzzles. Is that a problem? Puzzles are fun. With its many addicting puzzles and overwhelming quality, Level-5 had a smash--and the start of something great.
Super Smash Bros. Brawl: The sequel to the acclaimed Super Smash Bros. Melee, Super Smash Bros. Brawl is an even bigger serving of fan service to Nintendo fans than either of the first two games combined. It boasts an array of awesome collectables, as well as a new story mode that connects all of the playable fighters together in a quest to stop the Subspace Army. Speaking of characters, there's more than ever before, with Diddy Kong, Pit, Pokemon Trainer, and Sonic the Hedgehog joining the roster as well as a number of other new characters. To top it all off, Brawl also introduced the Final Smash, which allows the player to finish off their opponent with a huge, final attack that sends the opponent reeling. Smash Bros. Brawl has a limitless amount of content that makes it one of the Wii's top games.