The lower region of Hyrule has Skyward Sword and Galaxy 2 as its top picks.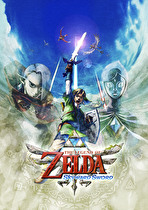 Now that we're done the Wild Card Round, it's time to get to the fun stuff. Round 1, aka the Round of 64, features a ridiculous 32 match-ups between 64 deserving games. We've split them all into four regions, led by the highest-rated games (according to Nintendo World Report and MetaCritic) of the entire batch: Metroid Prime, Super Mario Galaxy, The Wind Waker, and Resident Evil 4. Go ahead and vote for these match-ups and show your colors in the discussion. What's your Cinderella game?
Voting ends on March 15 at around 1 a.m. ET. On March 16, we'll have Round 2, with 32 games and 16 match-ups, ready to go...
---
Pokemon Diamond/Pearl (11) vs. Super Mario 3D Land (6)
Pokemon Diamond/Pearl: The 2007 Pokemon DS release might be one that got a lot of old fans back in the game. While the old standby joke that every Pokemon game is the same still applies here, Diamond and Pearl did things just different enough to make it feel newer and fresher. Maybe it was the updated (and very pretty) graphics, or the addictive music, the steady stream of touch screen-specific apps to collect, or the new pocket monsters to catch; whatever the culprit, it worked. If any Pokemon game deserves a top stop in this tournament, it's this one.
Super Mario 3D Land: This 2011 3DS game was something that people needed to discover for themselves to understand. The unique fusion of 2D and 3D Mario mechanics from EAD Tokyo produced an interesting design that brought back old favorite power-ups and mixed the concepts of Super Mario 64 with Super Mario Bros. With countless secrets, fun boss battles, and some of the best stereoscopic 3D on the system, Super Mario 3D Land is one of the top titles on 3DS, and might make some noise in this here tournament.
---
Metroid Fusion (WC) vs. Super Mario Galaxy 2 (3)
Metroid Fusion: The 2002 Game Boy Advance release took Super Metroid's gameplay and attempted to inject some story, some gravitas, into the formula. No longer could Samus run from one area to the next—she had missions this time, given to her by a sentient computer program, in an effort to stop the spread of a deadly space organism (the "X" parasites) from TAKING OVER THE UNIVERSE. These story sequences are not always welcome or well-written, but the gameplay is silky smooth and features a few new gadgets to play with. The space station offers are larger and more interconnected playground than anything in Zero Mission, but Fusion is a more cerebral Metroid game.
Super Mario Galaxy 2: Mario returns on the Wii for round two in the cosmos with the 2010 release of Super Mario Galaxy 2, this time with the ability to ride Yoshi and over 240 stars to collect. As par for the course, he needs to rescue Peach yet again. However minor improvements were made to the already great Galaxy formula, causing Galaxy 2 to keep on impressing. Between its paramount level design and mechanics, SMG2 resulted in being a fan favorite of 2010.
---
Pikmin (10) vs. Metroid: Zero Mission (7)
Pikmin: Making it's debut on the GameCube in 2001, Pikmin was a totally new concept to Nintendo fans that proved to be immensely popular. Taking the role of Captain Olimar, the player finds themselves shipwrecked in a mysterious planet where oxygen (a substance fatal to Olimar's people) is abundant. Olimar must find the parts of the ship that were lost upon the wreckage, and seeks help through strange creatures called Pikmin. The RTS-like gameplay of Pikmin might have been something new to a lot of Nintendo fans, but with it's charming atmosphere, calm soundtrack and overall quirkiness, Pikmin proved to be another of Nintendo's cherished franchises.
Metroid: Zero Mission: I'm gonna say it: Zero Mission is, objectively, the best 2D Metroid game. It's got everything you've come to love from the series and cuts out all the crap. It's a speedrunner's delight, with fast movement and lots of shortcuts between the various regions of Zebes. While it's a spiritual remake of the original Metroid (a game that is objectively terrible), Zero Mission feels a lot more like Super Metroid, but sped up and with better graphics. You might bemoan the "post-game scenario," as I call it, but it does lead up to a really cool power-up sequence and a boss fight that ties into Metroid Prime. It's a crime that Zero Mission isn't available for download in some form, but it's well worth picking up a copy secondhand. Samus' second first mission is doubtlessly among her best.
---
Super Smash Bros. (15) vs. Zelda: Skyward Sword (2)
Super Smash Bros.: What first started an experimental fighter turned into phenomenon with 1999's Nintendo 64 smash hit Super Smash Bros. Bringing together 12 Nintendo characters from across their history to kick the snot out of each other proved to be an endearing and fun concept. Seeing characters such as Captain Falcon and Ness show up was amazing, and then seeing them fight Link and Mario in Hyrule and the Mushroom Kingdom was even cooler. Melee might have trumped it, but the original is still a classic.
The Legend of Zelda: Skyward Sword: Not to besmirch the good name of Twilight Princess, but Skyward Sword was the true heir to the Zelda legacy for the Wii. Of course we all know that Twilight Princess came out at the weird cusp of GameCube and Wii, so it's natural that not all of the Wii's features were fully realized, but the simple fact remains that they just should have worked to put it out early to it didn't have to compete with this gem. Skyward Sword harkened back to some of Zelda's best titles with its truly epic story and combined it with the interactive gameplay the Wii prided itself on. Nintendo couldn't have given us a better title for Zelda's 25th anniversary.