Wii
Super Mario Galaxy
Visit the Wii U game profile for more NWR coverage.
Mario, once again, chases after Princess Peach, but this time she's not in any castle, she's in space. Utilizing the Wii controller to its fullest, players will be able to unleash new moves simply by tilting and shaking the controller and dragging items by pointing. Also, due to the space setting, Mario will be able to perform new and more incredible leaps than in previous games.
CONNECTIVITY: Episode 236: So... * Chunks, Huh?
It's time for part two of the Galaxy replay....
by Curtis Bonds, Nicholas Bray, and Zachary Miller - October 20, 2017

CONNECTIVITY: Episode 235: Galaxy Princess feat. Luma
Ten years of hungry Luma exploding across the starry sky....
by Curtis Bonds, Nicholas Bray, and Zachary Miller - October 5, 2017

TALK NINTENDO: Episode 9 - Wii are the Champion
We celebrate the Wii's 10 year anniversary!...
CONNECTIVITY: Best of the Wii: Super Mario Galaxy
Once again, Mario defines a console....
by Patrick Barnett, Zachary Miller, Tyler Ohlew, and Neal Ronaghan - October 4, 2012

RADIO FREE NINTENDO: Episode 297: Hippy Shows
Jon is gone. Jonny is gone. Billy is here. James is in charge. What could go wrong?...
by Billy Berghammer, James Jones, and Guillaume Veillette - July 8, 2012

RADIO FREE NINTENDO: Episode 276: Star Wars Porn
We talk up games new and old, plus answer your questions about SOPA and Mario level selection....
by James Jones, Greg Leahy, Jon Lindemann, and Jonathan Metts - January 22, 2012

THE FAMICAST: Episode 7: ANNUAL GIFT MAN APPROACHES
The whole crew (plus one extra) assemble for an super-extended episode to ring in the new year!...
by Danny Bivens, James Charlton, Daan Koopman, and Matt Walker - December 16, 2011

RADIO FREE NINTENDO: Special: Super Mario Galaxy
Having a hard time tracking down a copy of Galaxy today? Listen to this podcast!...
by Karl Castaneda - November 12, 2007

Screens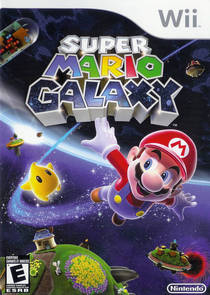 Genre
Action
Developer
Nintendo
Players
1 - 2
Worldwide Releases
Super Mario Galaxy
Release
Nov 12, 2007
Publisher
Nintendo
Rating
Everyone
Super Mario Galaxy
Release
Nov 01, 2007
Publisher
Nintendo
Rating
All Ages
Super Mario Galaxy
Release
Nov 16, 2007
Publisher
Nintendo
Rating
3+
Super Mario Galaxy
Release
Nov 29, 2007
Publisher
Nintendo
Rating
General