Perfect Dark rules the roost in the other half of the Zebes Region.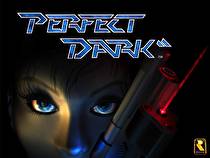 Now that we're done the Wild Card Round, it's time to get to the fun stuff. Round 1, aka the Round of 64, features a ridiculous 32 match-ups between 64 deserving games. We've split them all into four regions, led by the highest-rated games (according to Nintendo World Report and MetaCritic) of the entire batch: Metroid Prime, Super Mario Galaxy, The Wind Waker, and Resident Evil 4. Go ahead and vote for these match-ups and show your colors in the discussion. What's your Cinderella game?
Voting ends on March 15 at around 1 a.m. ET. On March 16, we'll have Round 2, with 32 games and 16 match-ups, ready to go...
---
Mega Man 9 (11) vs. Metroid Prime 3 (6)
Mega Man 9: Sometimes, a miracle you didn't think was possible happens. This 2008 WiiWare game is one of those miracles. Mega Man 9 is a new addition to the classic 2D Mega Man series, made in a manner that made it feel like the old games while being wholly new. It seamlessly fits in with the other classic NES titles, and honestly, if we were to make a Top Mega Man game list, Mega Man 9 would have a shot at being rather high on that list.
Metroid Prime 3: Every Prime game was unique, and the 2007 Wii game was built specifically for Nintendo's new system, making use of motion controls and the pointer. Corruption just looks phenomenal, with excellent music and sound design to boot. A few new gameplay mechanics—Samus' "Hyper Mode" and riding around in the Gunship—made for some memorable experiences, but once again, it's the world-building that takes center stage. Samus visits a reptilian civilization, a steampunk cloud city, and even the Space Pirate homeworld, all in an effort to track down three fellow bounty hunters and stop Dark Samus, whose power has grown considerably since your encounter at the end of Metroid Prime 2: Echoes.
---
Super Mario 3D World (WC) vs. The Legend of Zelda: Majora's Mask (3)
Super Mario 3D World: After making it through the Wild Card Round, the beloved 2013 game Super Mario 3D World seeks to further its win streak. It was Mario's big 3D foray into HD graphics on the Wii U. Featuring the adorable cat suit and tons of content, this game brought four-player mayhem to a new style of Mario, ruining friendships all the while. If this game loses in this round, there is a chance that it invalidates this entire voting process, and the NWR staffers who decided this wasn't one of the four best games of 2013 might have to stand trial.
The Legend of Zelda: Majora's Mask: One of the most underrated Zelda titles, The 2000 N64 game Majora's Mask lives in the shadow of Ocarina of Time. Players were forced on a three-day time limit to save the doomed realm of Termina from a Skull Kid with a demonic mask. Oh, and you have to collect a lot of masks with a bunch of timed events. Good luck. But Majora's Mask gave us a different kind of Zelda from many of the other titles, with a more character-driven story that existed almost entirely on micro-scenarios. Link had to actually talk to the townsfolk and pick up clues from their routines in order to help them with their last regrets before they resigned themselves to their seemingly imminent deaths. Grim as it seems, that is what makes the ending to this game poetry.
---
Ghost Trick (10) vs. Donkey Kong Country Returns (7)
Ghost Trick: The 2011 DS release might have come out late in the system's life, but it's still one of the best stories on the entire system. Crafted by the director of the Phoenix Wright games, Ghost Trick is an interesting riff on that gameplay style, having players interact with a touching and intriguing story while possessing different items to solve murders, crimes, and more. It is a genuinely touching story that has many twists and turns. Also, there's a dog in it that's freaking hysterical.
Donkey Kong Country Returns: The Donkey Kong Country came back in a big, bad way with this 2010 Wii release. Retro Studios' first foray into 2D platforming might just be one of the best of its kind on the Wii or maybe even any system ever. Returns features a wide variety of inventive levels that will challenge you to your core. Outside of some iffy motion controls, there isn't much to complain about this instant classic.
---
Jet Force Gemini (15) vs. Perfect Dark (2)
Jet Force Gemini: The 1999 shooter adventure was a showcase on the Nintendo 64 from Rare. Made by the same team who made Blast Corps, Jet Force Gemini featured three unique characters on a quest that has them rescuing Tribals and fighting evil insects on a varied alien planet. It's a fun fusion of shooting and platforming that, while it got long in the tooth with collectables, is a ton of fun. Throw in the four-player deathmatch, and Jet Force Gemini is another great Rare N64 game.
Perfect Dark: Rare's 2000 N64 first-person shooter has been referred to as the "spiritual successor" to GoldenEye 007, as it uses a modified version of the engine. With gameplay similarities, Perfect Dark follows secret agent Joanna Dark. Her mission? Stop a conspiracy by an evil corporation, dataDyne. This sci-fi shooter includes an in-depth single player campaign with the ever beloved GoldenEye-esque multiplayer making it a must have for the 64. Outside of some slowdown, Perfect Dark is still one of the best local multiplayer experiences in the first-person shooter genre.