Super Mario Galaxy is probably going to dominate here.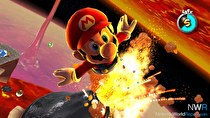 Now that we're done the Wild Card Round, it's time to get to the fun stuff. Round 1, aka the Round of 64, features a ridiculous 32 match-ups between 64 deserving games. We've split them all into four regions, led by the highest-rated games (according to Nintendo World Report and MetaCritic) of the entire batch: Metroid Prime, Super Mario Galaxy, The Wind Waker, and Resident Evil 4. Go ahead and vote for these match-ups and show your colors in the discussion. What's your Cinderella game?
Voting ends on March 15 at around 1 a.m. ET. On March 16, we'll have Round 2, with 32 games and 16 match-ups, ready to go...
---
Pokemon Snap (16) vs. Super Mario Galaxy (1)
Pokemon Snap: Take pictures of Pokémon. That is all there is to this 1999 Nintendo 64 game. The concept seems okay at best, the game is very short after the first go, they don't even include all 150 original Pokémon, and it sells for, at best, ten bucks at a used game store. So why does everyone still play it if they have an N64 and why does everyone still want a remake/sequel? Because it's fantastic, that's why. Pokémon Snap is designed as a level-by-level progression through a fantasy island of Pokémon, ripe for picture taking. It's not very complex and it doesn't have a lot of bonus content to it, but it's the simplicity that makes it shine.
Super Mario Galaxy: Super Mario Galaxy is Mario's first foray on the Wii back in 2007, and not only is it considered one of the best games on the Wii, it might just be Mario's best adventure yet! Here's a refreshing story: Bowser has kidnapped Princess Peach. This time, he takes Princess Peach's castle and lifts it into outer space. Mario takes it to the sky, collecting power stars along the way in search of Bowser and Peach. The game makes great use of the Wii controls, using the nunchuk to move and the controller itself to preform actions. With intuitive controls, engaging worlds and a incredible orchestrated soundtrack, Super Mario Galaxy can be considered one of the best games of the last generation on any system.
---
Pokemon Black/White (9) vs. Mario & Luigi: Bowser's Inside Story (8)
Pokemon Black/White: The 2011 DS releases, Pokemon Black/White did a lot of things differently that makes it stand out from the rest of the Poke pack. Most notably, it introduced a ton of new Pokémon and required you to use only them during your initial playthrough. You'll go from your home town to the Elite Four without ever seeing a Pikachu. The game has an arguably good story (a first) involving the morality of keeping a living creature trapped in a small orb. The postgame content is extensive (and difficult) and the online features are amazingly fleshed out and central to the experience. Pokémon Black/White may not be the system's BEST Pokémon game, but it's certainly the most daring.
Mario & Luigi: Bowser's Inside Story: This little number is the third entry in the series, and developed by AlphaDream. Its plot is unrelated to its predecessors, but the role-playing style remains the same, and keeps the comedic aspect close at heart. The setting oddly takes place in Bowser's innards after the bros. were shrunken and inhaled by the villain, which makes for a great story. In the end, this DS title went on to sell millions, reassuring that the series still had something to give. Also, Fawful.
---
The Legend of Zelda: Phantom Hourglass (12) vs. Eternal Darkness (5)
The Legend of Zelda: Phantom Hourglass: This 2007 DS game brought the Zelda series into an entirely new control scheme based on the DS touch screen. With unique and interesting takes on classic Zelda series weapons and items, Phantom Hourglass was an engaging adventure that took the spot of being a sequel to the classic Wind Waker. It was followed up by a sequel, Spirit Tracks, that went even further down the touch screen rabbit hole.
Eternal Darkness: Sanity's Requiem: This 2002 GameCube game is a centuries-spanning love letter to H. P. Lovecraft and the Cthulhu Mythos. An interesting magic system and unique limb-chopping combat are great, but Eternal Darkness' greatest strength lies in its sanity effects—the farther your character's sanity meter drops, the more surreal the effects become. You might hear people screaming and weeping, the camera might begin filming at odd angles, or your character's head might pop off. Oh, and there's that great one where the game deletes your entire memory card. See, the sanity effects don't just affect your on-screen character, but you too, as the player. They're brilliant, and one of highlights of the game.
---
Animal Crossing (13) vs. Fire Emblem: Awakening (4)
Animal Crossing: Making it's North American debut in 2002, Animal Crossing can be considered one of Nintendo's earliest foray into social networking games. As a traveller coming to settle in a new town, you start off with a small house that you must pay off to one Mr. Tom Nook, who runs the local shop. The more you pay off Nook, the more additions you can add to your house. The more you buy off Nook, the bigger the store he ends up managing. One of the coolest features was buying NES games that you can store in your house- sort of like a precursor to the Virtual Console the Wii would end up implementing. Meeting interesting neighbors, looking for fossils, fishing, bug catching, paying off your house...there's tons to do in Animal Crossing, and the fun never ends.
Fire Emblem: Awakening: The 2013 3DS release Fire Emblem: Awakening took nearly every convention from the older titles that fans knew and loved and simply made it better. Support mechanics in battle went from cumbersome to a strategy that made you nearly unbeatable. Innate character abilities actually showed up in battle, unlike they used to, and added a whole level of meticulous planning to support levels just so everyone could get Galeforce. The class system even expanded to include some of the best classes that have ever existed. Healer with an axe? Yes please. Not only is this title at the pinnacle of Fire Emblem games, but it was one of the best games of 2013, with some pretty stiff competition.