You could win a limited edition Nintendo varsity sweater!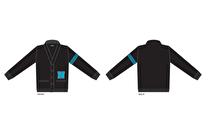 Nintendo TVii is hosting a "Road to the Championship Sweepstakes" coinciding with the NCAA March Madness tournament (which is going on right now!).
The sweepstakes period started March 18, and will end upon conclusion of the Division I Championship game held on April 7. Ten lucky winners will receive a limited edition Nintendo varsity sweater. There are two ways to enter:
Entry through Nintendo TVii: Launch Nintendo TVii from the Home Menu of the GamePad, tune into any of the games, and tap the "Play" icon on the left side of the screen. A yellow banner will display on the Activity and Leaderboard screens, where you can accept the Official Rules and enter your Nintendo Network ID for an entry.
Free entry by postcard: No Wii U or Network ID is needed for this option. Hand print your name and other contact information on a postcard and mail it to Nintendo of America.
Winners will be randomly selected around April 21, and contacted around April 22. Full official rules and entry instructions for the sweepstakes can be found here. Good luck!
Editor's note: Go Syracuse!