Ladies and gentlemen, your kings of swing.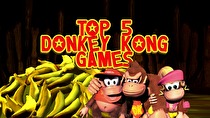 It has been a while since we got together with our friends on Patreon to come up with a countdown. With the launch of Donkey Kong Country Tropical Freeze on Nintendo Switch, now felt like the right time.
We sent our staff and Patreon supporters a list of every Donkey Kong game and asked them to vote for their top five. We then ordered the games based on the number of votes they recieved to come up with this final list.
Scroll down to see the complete list beyond the top 5.
WARNING SPOILERS BEYOND THIS POINT!
...
...
...
...
...
...
Full ranking
1. Donkey Kong Country: Tropical Freeze
2. Donkey Kong (Gameboy)
3. Donkey Kong Country 2
4. Donkey Kong Country
5. Donkey Kong Country Returns
6. Donkey Kong (Arcade)
7. Diddy Kong Racing
8. Donkey Kong Country 3 / Donkey Kong Jungle Beat
9. Mario VS. Donkey Kong
10. Donkey Konga
11. Donkey Kong Jr.
12. Donkey Kong 64 / Donkey Konga 2
13. Donkey Kong 3 (Arcade) / DK King of Swing / DK Jungle Climber
14. Donkey Kong Land / Land 2 / Land 3 / Donkey Kong Barrel Blast