A new Yoshi game, Ace Attorney 5 and Baten Kaitos 3 may be in the works for the 3DS.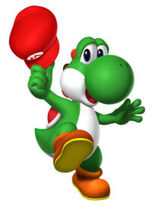 A new Yoshi platformer, Ace Attorney 5, and even Baten Kaitos 3 are going to be announced soon for 3DS, according to several sources across the internet.
Eurogamer, via a translated blog post from Hachimaki, mentions that the Yoshi platformer will be developed by Good Feel, known for their work on last year's Kirby Epic Yarn for the Wii. In addition, the fifth game in Capcom's Ace Attorney series is also reportedly in the works. It is believed that the game will include a scenario starring prosecutor Miles Edgeworth. Edgeworth has starred in two previous spin-off games.
The developers behind the WarioWare franchise are also working on an unspecified new game for the 3DS.
A new Etrian Odyssey will also be announced, as well as a Hatsune Miku game based off of the PSP rhythm games.
All of these rumors seem to point to a flurry of announcements that will come from next Tuesday's 3DS event in Japan.
Rumors also indicate that there will be demos of 3DS retail titles coming to the eShop, with with the first to be a trial of Super Mario 3D Land. The DSiWare version of The Legend of Zelda: Four Swords is also rumored to be getting a release date at the event.
There will also apparently be a new God Eater title announced, which will include a PSP Vita version. Grasshopper Manufacture's The Silver Case, which was planned as a DS remake, is now going to be moved to the 3DS and will also be announced soon.
Finally, a third Baten Kaitos game, subtitled Silence of a Mechanized Son, and a new Mach Rider game are in the works and also will be announced soon. Mach Rider Unchained is described as a racing brawler. It will be released in 2012 and will have a dark, grim tone.
Recently, the rumored 3DS attachment featuring a second Circle Pad was confirmed by Famitsu alongside a new Monster Hunter game that uses the peripheral.
Nintendo's 3DS press event will take place on September 13.