If only it was posted on a site worth a damn.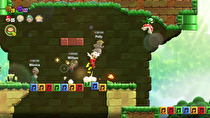 The video regarding Charles Martinet's new role as a "Mario Ambassador" has been posted.
The video posted on Twitter (the site now known as X for some asinine reason) is available below:
Here's a special video message from Shigeru Miyamoto and Charles Martinet regarding the change of Mario's voice actor, announced on 8/21. pic.twitter.com/4mOpD2Cx3a

— Nintendo of America (@NintendoAmerica) September 7, 2023
Nintendo confirmed that the voice of Mario would change with Super Mario Bros. Wonder, and we later confirmed that he would not appear in WarioWare: Move It two weeks later.