That leaves a retro-game-turned-battle-royale hole in the service to hopefully be filled by the return of Super Mario 35.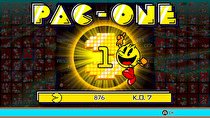 Pac-Man 99's online play is about to give up the ghost.
Bandai Namco have confirmed that the 99-player maze game will end service on October 9 at 12:00 a.m. ET (October 8, 9 p.m. PT). The game's paid content will also be brought down, with custom themes based on older Namco properties going off sale on August 8 and content DLC (including paid offline play which will be available after the shutdown) will not be sold after September 8.
Pac-Man 99 launched on April 7, 2021 and was a Switch Online member benefit before the addition of the offline DLC.