This should keep you going for almost the entire year.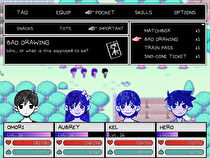 Today's Indie World presentation featured a host of new game announcements and a couple of updates for titles as well. The "one more thing" of the presentation was psychological horror RPG Omori, which is slated for release on Switch in the spring. Based on the webcomic of the same name, Omori (short for the Japanese term hikikomori, roughly meaning "shut-in") has multiple endings and status effects based on the main character's emotional state.
Other announcements, in order of release window:
Baby Storm, a co-op focused game that involves babysitting gone horribly wrong, is due from developer The Rookies on January 21.
Roll7's OlliOlli World tagged a February 8 launch, preorders for it open today with exclusive items available with pre-purchase.
Parkasaurus from Washboard Studios is a dinosaur-themed park builder that offers the choice to focus on the guests or the dinosaurs themselves. It's currently targeting spring.
Don't Starve Together is a co-op version of the survival game coming to Switch in spring: the original Nintendo Switch edition is currently a game trial for Nintendo Switch Online members.
Aliisha - The Oblivion of Twin Goddesses is a co-op action / exploration starring a pair of sisters, who control with different Switch functions (one with motion controls, one with touch as an example). A "console exclusive", it is due for spring 2022.
A new trailer aired for side-scrolling survival game Endling aired, and the game is now subtitled "Extinction is Forever". It is due in spring 2022
Behind the Frame: The Finest Scenery is an interactive story starring a young painter who is trying to complete her submission to a gallery, and will be out in spring.
The creative director of Coffee Talk and What Comes After announced Afterlove EP, a combination of visual novel, adventure, and rhythm game set in Jakarta, Indonesia and featuring music from local band L'alphalpha. Afterlove begins in the summer.
Action RPG GRIME was shown briefly with a summer release date.
Point and click murder mystery Loco Motive was announced for summer 2022, featuring multiple playable characters who are trying to solve a murder on board a train.
WayForward provided an update on River City Girls 2 and gave it a summer 2022 release window. Among the new items are online support for the co-op, and six playable characters including previous River City mainstays / kidnapping victims in the original Kunio and Riki.
Sabotage Studios (The Messenger) overhead RPG Sea of Stars is now due "Holiday 2022".
DONTNOD (original developers of Life is Strange) announced Gerda: A Flame in Winter for "2022". Set in Denmark during the Second World War, it will tell the tale of Gerda who tries to keep the residents of her small village alive.