Twenty minutes means a lot of games.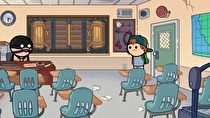 Multiple other titles were announced during the Indie World presentation:
Dark Cloud-styled Baldo from Italian devs Nap Team, also an action RPG, will be a timed console exclusive in summer.
I Am Dead, from the developer of Hohokum and published by Annapurna, is a game designed around exploring the afterlife. Launching first on Switch later this year.
Tic Toc Games revealed B.Ark, a side scrolling shooter with a family focus and four player co-op. A timed console exclusive launching in late 2020.
Cyanide & Happiness; Freakpocalypse, an adventure spinoff of the webcomic, is planned for summer.
Summer in Mara is a farming and crafting adventure game that has different types of weather events and a day/night cycle. It launches in spring.
Nimble Games showed Quantum League, an online FPS that features clones that are actually past selves of the character. A late 2020 release.
Faerea from Abrakam and Versus Evil is a collectible card game launching this month.
Eldest Souls is a 2D action RPG launching in summer.
The Blair Witch movie game will release in summer as well.
Moving Out, from SMG Studio and Team 17, will release April 28: a demo will be available shortly for it.
Sky Racket crosses breaking bricks with scrolling shooters as you try to stay in flight. It's available on the eShop later today.
Indie-focused fighting game Bounty Battle will see Switch release this summer. Colloquially, it is known as an indie Smash Bros.
Terry Cavanaugh (VVVVVV)'s Dicey Dungeons will have a Switch release sometime this year.
Spooky adventure game Ghost of a Tale will launch in spring.
thatgamecompany is coming to Switch with Sky: Children of the Light in summer.
Pillow Castle's first person puzzle game Superliminal is due on Switch this summer.
Wingspan, based on the board game of the same name, will launch this spring.