As in "ten copies were ever sold before a lawsuit slapped them down" rare.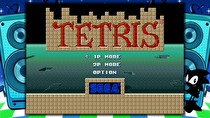 The remainder of the lineup for the Genesis Mini has been revealed, and it's a bit bigger than originally advertised.
Following a previous announcement of Mega Man: The Wily Wars, Street Fighter II Special Championship Edition, and Phantasy Star IV among others a couple of weeks ago, Sega announced 12 more games for the mini console today to bring the total game lineup to 42 games.
The full lineup can be viewed here, and includes a version of the original Darius (never ported to the Mega Drive or Genesis previously), as well as Tetris. Due to legal issues with the game's release, the Mega Drive's version of Tetris was blocked from sale just prior to its release and only ten copies of the game were ever sold. It isn't clear if the game on the Genesis Mini will be the specific Mega Drive version, or a new one ported by M2.
The other ten games announced were: Road Rash II, Strider, Virtua Fighter 2, Alisia Dragoon, Columns, Dynamite Headdy, Kid Chameleon, Monster World IV, Light Crusader, and Eternal Champions.