Play Final Fight, Knights of the Round, and many more from Capcom's history on September 18.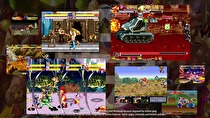 Capcom is bringing the arcade fury to Switch on September 18 with the Capcom Beat-'em-Up Bundle.
The pack includes Final Fight, The King of Dragons, Captain Commando, Knights of the Round, Warriors of Fate, Armored Warriors, and Battle Circuit. The last two are making their console debuts. All games will support four player locally and online and can be pre-ordered on the Switch eShop now.