I've only been pimping this week's biggest release for longer than I've been writing here.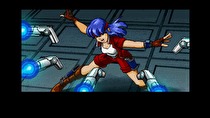 Appropriate for what happens to me on Wednesday, the big release of the week is something I preloaded several weeks ago. Cosmic Star Heroine, the two-man RPG with a soundtrack in that rare air of Xenoblade, finally comes home on Switch after I've banged on about it for five years and even interviewed Robert Boyd on the telethon. In 2014.
Other big hits include Keep Talking And Nobody Explodes, the ultimate "eight players, one copy" party game, action title Next Up Hero, and State of Mind (a full retail release). There are two Archives this week: Real Bout Fatal Fury 2: The Newcomers and the never-before released on consoles Nitro Ball.
Japan appears to be celebrating the Obon holiday, so we may not even get Fatal Fury. As of press time, there's NOTHING showing a release date between the 9th and 23rd on the eShop.
REVISION HISTORY: First release 9 a.m. Eastern time Monday, August 13
Added two games to Europe: Monday, 3:45pm ET
Two games added for NA, four for Europe: Wednesday, 10:50pm ET
Three games for Europe + demos: Thursday, 10:05am ET
One NA game + sales sheet updated: Thursday, 8:55pm ET
North America
Switch Retail
State of Mind (US$39.99/C$50.39: Wednesday)
Cosmic Star Heroine ($14.99/$18.89: Tuesday, retail release TBA)
Switch eShop
2064: Read Only Memories Integral ($20.64/$26.07: Tuesday)
Next Up Hero ($19.99/$25.19)
The Walking Dead: The Final Season ($19.99/$25.19)
Castlestorm ($14.99/$18.99)
Keep Talking And Nobody Explodes ($14.99/$18.89)
Polygod ($14.99/$18.89: Friday)
Detective Gallo ($14.99/$16.99: Friday)
Persian Nights: Sands of Wonders ($14.99: Friday)
Red's Kingdom ($9.99/$12.59)
Robbotto ($9.99/$12.59)
Manuel Samuel ($9.99/$12.59)
Treadnauts ($9.99: Friday)
Extreme Poker ($4.99/$6.29)
FunBox Party ($1.99/$2.59: Monday)
Switch Archives
Johnny Turbo's Arcade: Nitro Ball ($7.99/$10.64)
Real Bout Fatal Fury 2: The Newcomers ($7.99/$9.87)
Demos and Trials
Monster Hunter Generations Ultimate
Morphite
Monopoly
Animated Jigsaws: Beautiful Japanese Scenery
Sales and Price Drops
Highlights: Crypt of the Necrodancer and Floor Kids are among the Switch titles are on sale until August 23. Full spreadsheet
Europe
State of Mind (€39.99/£35.99: Wednesday)
Cosmic Star Heroine (€11.99/£10.99: Monday)
Switch eShop
Next Up Hero (€19.99/£17.99)
2064: Read Only Memories Integral (€17.57/£15.79: Tuesday)
Tiny Hands Adventure (€15.99/£13.99: Friday)
Keep Talking And Nobody Explodes (€14.99/£13.49)
Castlestorm (€14.99/£13.49)
Polygod (€14.99/£13.49: Friday)
Detective Gallo (€14.99/£13.49: Friday)
Persian Nights: Sands of Wonders (€14.99/£13.49: Friday)
Manuel Samuel (€9.99/£9.99)
Red's Kingdom (€9.99/£8.99)
Robbotto (€9.99/£8.99)
Treadnauts (€9.99/£8.99: Friday)
Flip Over Frog (€7.00/£6.29: Monday)
Extreme Poker (€4.29/£3.89)
FunBox Party (€1.99/£1.79: Monday)
Switch Archives
Real Bout Fatal Fury 2: The Newcomers (€6.99/£6.29)
Demos and Trials
Monster Hunter Generations Ultimate
Earthlock: Festival of Magic
Morphite (Friday)
Japan