This Gamescom week brings a classic 90s flashback. It also brings Night Trap, so no joy there.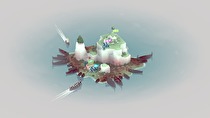 Although we don't have a price for it, we do have word that 2013 adventure darling Gone Home will finally come to a Nintendo system this week. (Not so much, as it turns out...) It was going to come to the Wii U at some point, but, well, Wii U. The week of Gamescom also saw no less than three shadow drops, as Bad North, Morphies Law, and Prison Architect are all on the eShop as of press time.
Little Dragon's Cafe hits stores and the eShop this Friday, for those who are looking for something a bit more relaxing, and Kero Blaster is your cult hit platformer of the week from the original developer of Cave Story. The Archives release this week is Crossed Swords from the Neo Geo.
Japan's biggest game this week cues up You Say Run, as My Hero's One Justice is out in Japan (the dub will follow in October).
North America
Switch Retail
Little Dragon's Cafe (US$59.99/C$75.59: Friday)
All-Star Fruit Racing ($35.59/$45.35: Tuesday)
Night Trap ($14.99/$18.99: Friday)
Switch eShop
Prison Architect ($29.99/$37.99: Monday)
Morphies Law ($19.99/$24.99: Monday)
Space Ribbon ($14.99/$19.99: Friday)
Bad North ($14.99/$18.89: Monday)
The Low Road ($14.99/$18.89)
Out of the Box ($14.99/$16.99: Wednesday)
Fernz Gate ($12.99/$17.99)
Shio ($12.99/$16.37)
Spectrum ($11.99/$15.11)
Kero Blaster ($9.99/$12.59)
Hacky Zach ($9.99/$12.59)
Behind the Screen ($9.99/$12.59)
Sky Gamblers: Storm Raiders ($9.99/$12.59)
My Farm ($9.99/$12.59)
bloxiq ($9.99)
Earthworms ($7.99/$9.99: Friday)
Flood of Light ($4.99/$6.29)
Toy Stunt Bike: Topsy's Trials ($4.99/$5.99)
Gone Home (tba)
Switch Archives
Crossed Swords ($7.99/$9.87)
Demos and Trials
Earthworms (Friday)
Toy Stunt Bike: Topsy's Trials
Sales and Price Drops
Highlights: L.A. Noire is 50% off until the 30th. Spreadsheet
Europe
Switch eShop
Prison Architect (€29.99/£24.99: Monday)
Morphies Law (€19.99/£15.99: Monday)
Bad North (€14.99/£13.49: Monday)
The Low Road (€14.99/£13.49)
Space Ribbon (€14.99/£12.99: Friday)
Out of the Box (€14.99/£12.99: Wednesday)
Fernz Gate (€12.99/£11.69)
Night Trap (€11.99/£10.99: Friday)
Spectrum (€11.99/£10.79: Monday)
Nekopara Vol 1 (€10.99/£9.89)
Shio (€10.49/£9.49)
Kero Blaster (€9.99/£8.99)
Hacky Zach (€9.99/£8.99)
Sky Gamblers: Storm Raiders (€9.99/£8.99)
My Farm (€9.99/£8.99)
Behind the Screen (€8.99/£8.09)
Earthworms (€7.99/£7.19)
Flood of Light (€4.99/£4.49)
Toy Stunt Bike: Topsy's Trials (€3.99/£3.99)
Switch Archives
Crossed Swords (€6.99/£6.29)
Demos and Trials
Earthworms (Friday)
Toy Stunt Bike: Topsy's Trials
Japan
My Hero's One Justice (¥8208)
Kimi No Hitomi Ni Hit Me (¥4980)
Prison Architect (¥3382: Monday)
Bad North (¥1690: Monday)
Morphies Law (¥1944)
Shelter Generations (¥1500)
Red's Kingdom (¥1299)
Shio (¥1296)
Sky Gamblers: Storm Raiders (¥1100)
Fernz Gate (¥1080)
Behind the Screen (¥1000)
Kero Blaster (¥980)
Moorhuhn Remake (¥900)
Crossed Swords (¥823)
Toy Stunt Bike: Topsy's Trials (¥550)
Flood of Light (¥480)