And no, that's not a typo on the rating. Blame the Game Corner.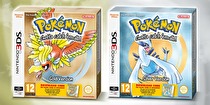 European Pokémon fans will be able to pick up some shiny boxes on 22 September.
Nintendo of Europe will release special boxed versions of Pokémon Gold and Silver for 3DS Virtual Console on the 22nd. The boxes will contain download codes for the respective version's VC releases.
No pricing details were given for the boxes, though they reveal the file size of the game as 130 blocks (just over 16MB).