Games being the key word.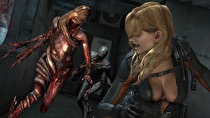 Capcom is bringing two more titles from their back catalogue to Switch, and one will make its Nintendo platform debut.
The two Resident Evil Revelations games will both be making their way to Switch this fall. North America will receive a physical release with Revelations 1 on a card and a download code for 2 for US$39.99, or they can be purchased separately on the eShop for $19.99 each. In Europe, the games will be digital only. Items that were previously sold as downloadable content will be unlockable in-game for the Switch versions.
Resident Evil Revelations originally debuted on the 3DS in 2012, and received a port to Wii U in May 2014. This is the first appearance for Resident Evil Revelations 2 on a Nintendo system, which was originally released episodically in 2015.