A reimagining of Metroid II.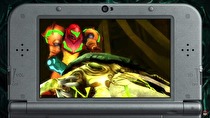 Metroid Prime 4 was not the day's only Metroid announcement.
Metroid: Samus Returns has been announced for 3DS on Treehouse Live. Pitched as a reimagining of Metroid II: Return of Samus, the game features new abilities such as melee counters and "Scan Pulse" plus a bottom-screen map.
In addition to working with the existing Metroid Amiibo from the Smash Bros series, two new Amiibo (Metroid II Samus and a "squishy" Metroid) will be available, with functionality to be announced. A special edition with a "Samus Archives" CD will also be available.
Samus Returns is being developed by MercurySteam, who pitched a Metroid concept to Nintendo in early 2015. The release date for the game is September 15.