Quite a bit larger than the Wii U.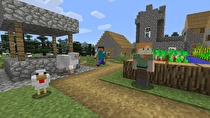 Details about the upcoming Switch version of Minecraft were announced on a livestream yesterday, and they will give Wii U veterans a lot more room to work.
The maps on Switch will be approximately 3072 squares by 3072 squares, roughly 13x the size of a map on Wii U (864 x 864) but smaller than the maps on the PlayStation 4 and Xbox One (5120 x 5120). The Switch version will launch with all content through January and "quickly" catch up to the current game.
The stream confirmed that the ability to transfer maps from the Wii U game is being worked on but will not make launch. The game is expected to hold a steady framerate of 60 frames per second.