A large dump of multiplayer Switch goodness near the end of the month.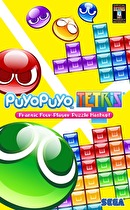 Mario Kart 8 Deluxe will have some competition in the multiplayer Switch space when it launches.
Sega confirmed today in a press statement that Puyo Puyo Tetris would release on the Switch April 25 for North America, and April 28 for Europe. The digital version will be US$29.99, while a physical version will be available for $39.99 that includes specially designed keychains.