There's a hole in my bucket, dear Sheldon.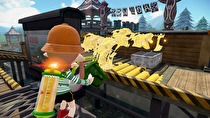 The Japanese Splatoon Twitter account has confirmed tonight's update will be fun for Slosher fans.
The Tri-Slosher, coming tonight at the traditional update times, fires three sets of ink per throw for additional coverage. The sub weapon is expected to be the Disruptor with an expected Bubbler special.