Share your challenge-filled platforming creations online next year!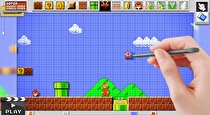 Mario Maker, the upcoming Wii U exclusive, creation-centric 2D platforming game, will allow you to share your custom made levels online.
Nintendo game designer Shigeru Miyamoto confirmed Mario Maker's online support in an interview with YouTube personality iJustine, saying, "You'll be able to see what happens when other people play your course, or when you play other peoples courses... there'll be popularity rankings for the most popular courses and things like that."
While we assumed that this would be the case when the game was first revealed at E3 2014, Miyamoto's recent confirmation removes any shadow of a doubt.
Mario Maker is scheduled for release in early 2015.