Gamers sure love their Smash!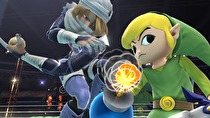 Super Smash Bros. for Wii U is now the fastest-selling game for Nintendo's tablet-centric console in the United States.
According to Nintendo, a whopping 490,000 copies were sold during its first three days on store shelves. Considering the fact that Wii U's install base isn't particularly huge, that figure is nothing to sneeze at.
This means that Mario Kart 8, the console's prior fastest-seller, has been relegated to second place.
You can read our glowing review of Super Smash Bros. for Wii U right here.