Nintendo's multiplayer brawler is expected to sell incredibly well.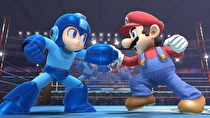 Pre-order numbers for Super Smash Bros. for Wii U are at a record high, surpassing those of Mario Kart 8, Nintendo of America President Reggie Fils-Aime confirmed.
"The launch of Mario Kart 8 has essentially doubled our Wii U sales year-on-year," Fils-Aime told Bloomberg. "Our expectation is that the sell-through for Smash is going to be very strong, certainly on par with what we saw with Mario Kart 8. We think the impact on hardware will be similarly dramatic."
There's a lot of excitement among Nintendo fans for the upcoming console version of Nintendo's popular fighting game. It will be interesting to see if that interest will result in a significant bump in console sales for the company this holiday season.
Super Smash Bros. for Wii U launches on November 21.