Fight as Epona, wage war as Cia, and play through a harder Master Quest.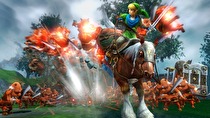 Specific details about the first paid DLC pack for Hyrule Warriors have surfaced in Japan, showing off the upcoming pack's new adventure map, scenario, weapon, and more.
The new adventure map presents another version of the classic Legend of Zelda map with new challenges. Dubbed the Master Quest Adventure Map, this map is much harder, restricting healing and item use. Higher rank weapons for the new free characters Cia, Volga, and Wizzro are sprinkled throughout, along with some other unlockables.
The new scenario focuses on the main game's villain Cia. It runs alongside the the primary story and presents five missions that collect Cia's first meeting with Volga and Wizzro as well as her attack on Hyrule Castle.
The weapon, as revealed previously, is Link's horse Epona. The new costumes are for Lana and Cia.
The Master Quest pack will be available worldwide on October 16. You can pre-order it now for $14.99.