There will be a Smash Bros. 3DS tournament at Nintendo World Store in New York City that weekend, though.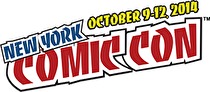 Nintendo of America will not have a booth at New York Comic Con, a company representative confirmed to us today.
In lieu of their appearance at the event, which runs from October 9 to October 12, the company will be hosting a Super Smash Bros. 3DS tournament at Nintendo World Store in New York City on October 11. The tournament will be streamed online, but to be an entrant, you need to win one of the tournaments at 16 different stores scattered across the country.
Nintendo has had a presence at the past four New York Comic Cons. Last year, Zelda series Producer Eiji Aonuma appeared on a panel related to then upcoming release The Legend of Zelda: A Link Between Worlds. In other years, they've hosted Pokémon launch parties, Professor Layton movie screenings, and large booths containing all of their holiday releases.
After skipping PAX East early this year, Nintendo of America had a major presence at San Diego Comic-Con and PAX Prime.
Around PAX East, Nintendo of America sent out this statement: "Interacting directly with our fans and letting them play our games firsthand is a key component of our approach. That doesn't include PAX East this year, but we will offer our fans a variety of opportunities to get their hands on Nintendo products in 2014. Keep an eye on our social media pages for more information about where we'll be and what you can play."