The dynamic duo will ride again.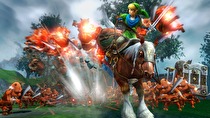 On October 16, Epona will be appearing in Hyrule Warriors as part of the Master Quest DLC pack. Eiji Aonuma announced via Miiverse that Link's loyal steed would be in the new Dynasty Warriors/Legend of Zelda crossover as a weapon that can pair up with Link to decimate hordes of enemies.
It was earlier reported that Hyrule Warriors will be receiving five DLC packs in total. The first is free and features three Hyrule Warriors villains (Cia, Volga, and Wizzro) as playable characters. It will debut in Japan on September 30 and in the US and EU on the same day as the paid Master Quest DLC, October 16. More details about the other packs and their releases can be found here.
In addition to Epona, the Master Quest DLC will contain a new scenario for the game, an adventure map, and two new costumes. The cost of this individual pack has not yet been confirmed.