There is also a fancy pants special edition for that side of the world only.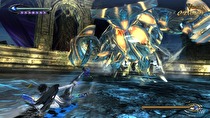 The European Bayonetta 2 Direct broadcast has revealed an October release for the title.
The game, developed by Platinum Games, will be available on October 24th in the region. The various purchase options have also been detailed, with an interesting First-Print Edition available. This will include both games and an art book placed in a Book of Angels case. There is a limited run on these and they are mostly sold out already in the United Kingdom. The retailer who offers them depends on the country, so be sure to check around carefully.
Next to the First-Print edition, there will be a simple duo pack once the run is completely gone. You can also just buy Bayonetta 2 solo, if you don't want another the new version of the original classic. If you buy one of the titles on the Nintendo eShop for Wii U, you can get the other at a discounted price.