A new payment option finally comes to Nintendo's home console along with a free game enticing gamers to use their NFC payment cards.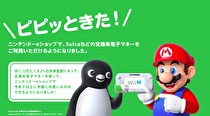 Nintendo has allowed for the use of NFC payment cards for purchases on Wii U in Japan. The cards, which are used in Japan as a means to scan for train fare or purchasing items at convenience stores, can be utilized by touching them against the NFC reader on the Wii U GamePad. Usable cards include Suica, Pasmo, Kitaca, Manaca, Toica, Icoca, Hayakaken, Nimoca and Sugoca.
To kick off the use of NFC payment cards on Wii U, Nintendo also released a free new puzzle game called Buta Medal (Pig Medal) on the eShop from July 22 to August 31. The game entices players to use their cards by offering them 30 in-game coins for every 100 yen they add to their eShop accounts via the new payment method. The in-game coins can also be earned by playing more of the game as well.
Nintendo revealed the plan to use NFC payments on Wii U last April in Japan. Currently there is no word if this feature will be utilized outside of Japan. You can check out Nintendo's video explanation of how to use NFC cards with the Wii U below.