Free games for the kids from the kids.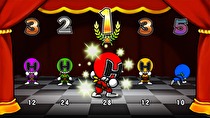 Four games from last year's Nintendo Game Seminar are set to be released on the Wii U eShop on June 19. The games, which will be hitting Nintendo's online store for free, were crafted by two teams of students in Tokyo and two teams of students in Osaka.
The game crafted by Tokyo's Team A, titled Poppo Hunter and billed as a new type of "hunting game," has players helping the game's protagonist, a pigeon named Popoda, find a wife. Poppo Hunter makes use of the Wii Remote. The game from Tokyo's Team B is called Hissatsu! Center Heroes. Different colored heroes duke it out to get a chance to be the center of attention of a photographer. The more times a hero is in the center frame, the more points they will receive.
From Osaka's Team X comes Shima Nagame. The game lets gamers view an island from a birds eye view and its inhabitant's, Cloud-kun. Gameplay revolves around helping Cloud-kun find things on the island, such as apples or sticks, and watching his reactions. Osaka Team Y created a game called Sentō Danchi. In the game, players construct a base and protect a space craft from oncoming invaders. You can check out video footage from all of the games here.
Nintendo has held the Game Seminar event since 2006. The seminar gives students the chance to work directly with Nintendo employees to make games and receive advice on various aspects of game development. In previous years, games were distributed over Nintendo Zone. You can view more details about registration for the 2014 Game Seminar here.