Are your skills up to snuff for the latest Famicast?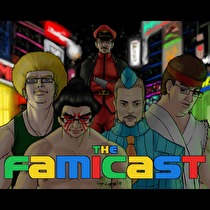 Subscribe via iTunes (Please rate and review, too!)
It's that time of the month again. That's right! Time for another edition of your family friendly (?) Famicast! The Famicrew is down a man as Matt is recently recovering from a trip to the US, but Danny and Ty man the fort to bring you the latest from Japan!
New business features some hot talk about the newly released 2013 Nintendo Game Seminar games from Danny. The game focused on here is Poppo Hunter, dubbed a new "hunting" game by Tezuka. The game has players trying to help the protagonist find a pigeon girlfriend. It's a bit strange, so be sure to tune in to catch all the details and also check out our videos of the games here! Ty and Danny have also been playing quite a bit of Mario Kart 8 on Wii U and have a lot to say about it. Listen to find out what they like and dislike about this hot new entry into the series! To round it out, we get a deluge about fighting games, State of Decay and much more!
The second half of the show focuses on the latest news from Japan, including some talk about the start of the DS Virtual Console in Japan, 2014 Nintendo Game Seminar registration, Capcom and a few other interesting tidbits. The guys also talk briefly about their thoughts on the madness that was E3 2014, discussing some of the games and announcements that grabbed them.
As always, if you have any questions, comments, complaints or anything like that, feel free to hit us up on in the Talkback thread below, tweet at us at @thefamicast, send an email to famicast@nintendoworldreport.com or visit the Questions for the NWR Japan Crew forum thread. Hone your skills and get ready for the show! Famiast a go-go, baby!
This podcast was edited by Danny Bivens.
Music for this episode of The Famicast is used with permission from 8 Bit Weapon. You can purchase their music and shirts from their website 8bitweapon.com
Additional music for this episode of The Famicast is copyrighted to Nintendo, and is included under fair use protection.