Developer Renegade Kid "discussing other options."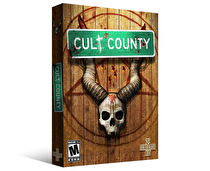 Renegade Kid's ambitious crowdfunding initiative for first-person survival horror game, Cult County, has ended unsuccessfully.
The developer was asking for $580,000 via Kickstarter to fund multiplatform development for the title, including planned releases for Wii U and 3DS. At campaign's end, pledges totaled a mere $46,736, less than 10% of what was needed.
Renegade Kid co-founder Jools Watsham took to Twitter to deliver the news and thank backers, but also provided a ray of hope by noting that they are "now discussing other options" for the game.
Cult County was announced as a 3DS first-person shooter in early 2013, and an "atmospheric demo" was shown off at PAX East shortly thereafter. The title re-emerged last month via Kickstarter in a greatly expanded form, now intended for virtually every modern platform and built around an episodic structure. A $15 pledge would have granted backers all five planned episodes of the game.
Renegade Kid has received criticism regarding the ambitious nature of their campaign. "People tell us we need to reduce the # of platforms and budget for Cult County," Watsham responded via Twitter. "Only way to reduce budget is to only make episode 1."
Though Cult County's status is up in the air for now, the company still has various games in development. Moon Chronicles and Treasurenauts are due to hit the 3DS eShop sometime in the coming months, and the follow-up to Mutant Mudds is due this year as well.