Strap on your space boots, it's time to explore.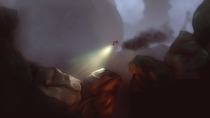 A Wii U exclusive, Affordable Space Adventures, has been announced and is making its way to the eShop.
The game is being co-developed by Nifflas (Knytt Underground) and KnapNok Games (Spin the Bottle: Bumpie's Party) and is expected to be released this autumn.
The flighty puzzler follows a tiny ship, Small Craft, in exploring the unknown depths of alien worlds. Players control the spacecraft using its Heads Down Display on the Wii U GamePad. You can go alone on a one-man mission, or via co-op as your friends help you navigate through the atmospheric worlds.
Check out the teaser below: