Milk bars, witch brooms, and a menagerie of bizarre characters.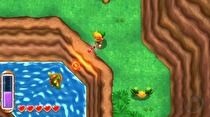 A host of new characters and optional side-quests in the upcoming Nintendo 3DS title The Legend of Zelda: A Link Between Worlds has been revealed in the latest Nintendo Direct.
The newly-unveiled NPCs include Irene, a witch who will help Link to fast-travel between various locations in Hyrule and Lorule, and the Milk Bar Owner, similar to the character in earlier Zelda game Majora's Mask, who instigates a major side-quest involving someone that desires premium milk. We also saw more footage of the title's damsel in distress, Seres, who is trapped in a painting, as well as the primary antagonist, Yuga.
Furthermore, a previously unseen item was shown off, called the Zora Flippers, which enable Link to swim and dive in bodies of water.
This is just one of the announcements made about A Link Between Worlds during the presentation, along with the StreetPass Shadow Link feature. The game will be released in North America and Europe on November 22, and later in Japan on December 26.