Pilotwings and...not much else.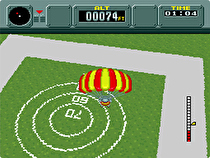 Let's all be honest for a minute here: it's a slow week for downloads. At least you can pick up Mighty Switch Force! at a discount, and, if you're feeling up to it, jet around the skies in Pilotwings. This is one of those weeks where I get a chance to breathe and remind myself: there's always next week.
3DS eShop Sales
Mighty Switch Force! - $3.99, until 9a.m. PT July 11
Order Up!! - $4.99, starting 9 a.m. July 8 until 9 a.m. PT July 22
Planet Crashers - $4.99, starting 9 a.m. July 8 until 9 a.m. PT July 22
Wii U eShop Sales
Mighty Switch Force! Hyper Drive Edition - $6.67, until 9a.m. PT July 11
3DS eShop Games
Fishdom H20: Hidden Odyssey - $4.99
Alright everybody, listen up. Jennifer, a bright young marine biologist, has got some serious problems. She doesn't have a Best Aquarium Award. I know! Her aquarium is incredible! We have to help her. Get ready to decorate that aquarium to your hearts content. That award is ours.
Who wants to be the king of some dumb kingdom when they can be the king of shooting deer in their ugly faces? Get out there and kill some deer with shotguns, rifles and crossbows. Oh, killing deer isn't enough for you? How about bears? Still not good enough? Raptors. That's right, raptors.
3DS Virtual Console
Mario Kart? That's game is for babies. Real men only play Sonic Drift. With local two-player multiplayer and the option to play as seven different characters, what's not to love? There might not be any koopa shells, but there are 17 tracks to speed through.
It's pretty simple: get in a jet and blow stuff up. What else do you need? The Future World Army is out there wreaking havoc, and it's up to you to kick their butts across nine missions. Bust out the two-player multiplayer to destroy baddies with a friend!
Vampire: Master of Darkness - $4.99
This is some pretty basic stuff. Dracula is doing his Dracula thing, and you have to stop him. You might not have a whip, or supernatural powers, or tons of equipment, or even a compelling storyline, but I'll tell you what you do have: a psychology degree…Don't ask me why they needed a psychologist to slay Dracula.
Wii U Virtual Console
Go back to the game that started the prolific Pilotwings franchise! Well, maybe it's not quite "prolific," but it's still pretty fun. Get your pilot's license and speed through the air in a biplane, hang glider, or rocket belt.
3DS eShop Demos