The studio's Mike Roush teases what could be their take on Metroid.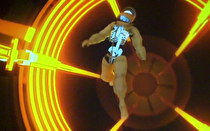 Gaijin Games is currently deciding on its followup to Runner2, and mentions laserlife and a mystery title going by the name Bitroid.
In our interview with Gaijin Games, Mike Roush tells us that the studio may move away from the BT.TRIP series. In addition to the previously discussed laserlife, Roush said "...we have been talking about Bitroid - you can figure out what that would be." The title alludes to the game being the studios take on the Metroid formula.
Laserlife, which Roush mentioned would likely come to Wii U if it was made, was originally shown off in 2010 as one of many concepts that Gaijin Games might tackle in a post-BIT.TRIP world. Roush led a presentation at Indiecade that showed off an astronaut interacting with music using two laser reins that would "conduct" the visuals, using a pair of Wii Remote Pluses or PlayStation Move controllers. The astronaut was meant to be a main character looking for his memories and trying to figure out what it takes to be a hero.
It is unknown when Gaijin Games's next title is scheduled to release.