Less than two months after the other console releases, Aliens is canned on Wii U.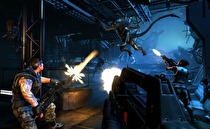 The Wii U version of Aliens: Colonial Marines has been canceled, a Sega representative told IGN.
The Playstation and Xbox versions of Aliens launched in early February. While many were heavily anticipating the title, the final product was panned by reviewers and consumers alike. Until now, Sega, the game's publisher, was unable to confirm nor deny rumors that the Wii U project had been scrapped.
A Sega representative talking with IGN today provided the following statement: "Sega can confirm that the Wii U sku of Aliens: Colonial Marines is no longer in development."
Aliens: Colonial Marines was initially scheduled for a Q1 release in North America.