Now you can view your favourite posts like never before!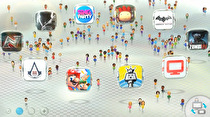 This morning, Nintendo updated Wii U's Miiverse service once again and added a few new features.
For starters, there is now an option on your profile that allows you to view all the posts you have given a Yeah to, making it easier to view your favourite posts.
You have also full control over who can respond to your posts. If you so choose, you can allow only those who own the software you're posting about to respond. You need to go to your Miiverse settings in the user menu to activate it.
Developers and staff from game companies now have a green notice at the top of their profile, which tells you who they work for.
Additionally, the Miiverse standard setting has changed for users up to 12 years of age. Originally minors could only see the posts of friends, but new users will now have the ''Everyone'' option enabled by default. Current users will have to go to the options to set this new system up manually. Communities will also remember your preferences for viewing posts: for example, if you like to view ''New posts'' or ''Posts from players'', the community will now remember this and bring you back to your favourite spot.