Prepare to be scared all over again.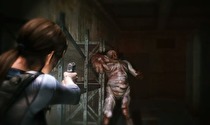 Resident Evil: Revelations is being released on Wii U, along with other non-Nintendo systems.
This is more than a port of the Nintendo 3DS game because of new additions that include, enhanced HD graphics, additional content such as a new enemy, an extra difficulty level, and improvements to Raid Mode, which will feature new weapons and characters.
Resident Evil: Revelations will be released on May 21 in North America and May 24 in Europe. A digital release will come later.