It won't be a long wait for this sequel to the WiiWare classic!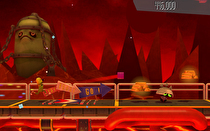 Gaijin Games has revealed that their upcoming title, BIT.TRIP Presents Runner2: Future Legend of Rhythm Alien, is nearly complete, according to a statement posted on its blog this past Friday.
The statement reads:
''Come Monday all art and animation will be in and 98% and ready to ship. We will spend a little time working on fixing art bugs bringing us to 100% completion and then … well, then at some point we will release the game and you can play it!''
The Wii U version of Runner2 will be fully playable on the Wii U GamePad, with no further details than that given. The game includes over 100 levels, as well as multiple playable characters, difficulty settings, unlockable costumes, and secret passageways. Runner2 also includes a voiceover guide performed by Charles Martinet, the voice of Mario.
An exact release date for Runner2 has not been set at this time.