Is your brain new hotness or old and busted? Play Sudoku and find out.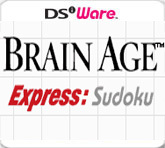 DSiWare title Brain Age Express: Sudoku is the newest Club Nintendo reward. It can be claimed for 150 Coins, and the offer runs through December 16.
Brain Age Express: Sudoku offers puzzles at three skill levels. Complete three puzzles to determine your Brain Age, a value of one's mental strength formulated by Dr. Kawashima. The Brain Age series of games was developed by Nintendo in partnership with Dr. Kawashima, and saw two releases on the DS. The series will return as Brain Training: Concentration Training for the 3DS in 2013.
Sudoku tasks players with filling the empty spaces of a square grid. What numbers go in which spaces is determined by the existing numbers in its row or column. Each number from one through nine can exist only once on any given row and column.
Brain Age Express: Sudoku sells for $4.99 on the 3DS eShop, or 500 points on the DSiWare Shop. It joins WiiWare title ThruSpace as a Club Nintendo reward.